M.C.P. SRL
was founded in 2012 by Dr. Federico Pezzotta, who had a vision to create a private, professional, internationally-recognized mineral specimen preparation laboratory in Europe. M.C.P. quickly attracted a team of enthusiastic and motivated technicians with scientific, technical, and artistic backgrounds coupled with years of experience in classical and experimental mineral specimen preparation techniques. After only a short time in practice, there was a sharp increase in the volume of demand for lab services, a swell of new clients from lands afar, and a realization that MCP needed to make a commitment to the continuous refinement and improvement of lab techniques. MCP underwent the arduous process of reorganizing the lab, acquiring new state of the art equipment, and thus began to realize the goal of being able to provide clients access to processes that have never been available before, and certainly not at the level of execution MCP is capable of. Further pushed by demand, MCP established a branch in Lucca (Tuscany) in 2013, almost exclusively devoted to serve the needs of it's Italian dealers and collector clientele. Then in 2016, another branch was established in Como, which is primarily devoted to mechanical processing of large scale minerals.
By the end of 2015, MCP had a number of collaborators in all the related fields of mineral dealing and mining, and thus leveraged their own experience and that of their collaborators to be able to provide a myriad of new services to the community. Some of these include mineral specimen curation and exhibition, evaluation and appraisal of collections, mine development and prospection, and much more.
MCP is widely recognized as one of the world's most important mineral preparation labs, with over 150 international clients, including collectors, dealers, museums, and mining companies. We have processed tens of thousands of specimens, from old classics to newly discovered pieces and many of the "ikons" of the mineral world. Our services have significantly influenced the world market of high quality specimens and have set the new standard for mineral specimen preparation.
MCP has dedicated pages and channels on Facebook, Instagram, and YouTube since 2016 look for us there to learn more.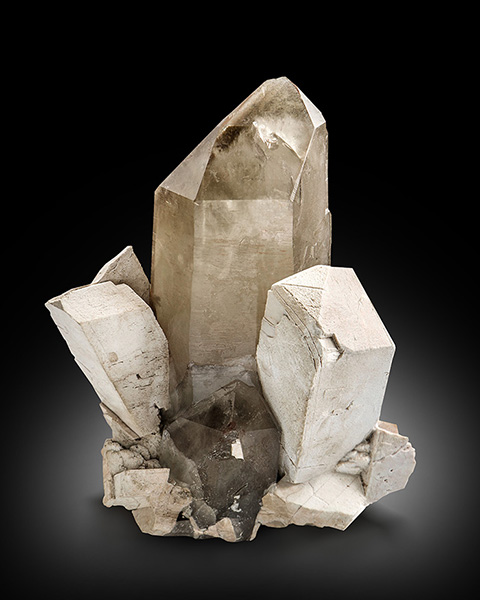 Orthoclase crystals (baveno twin at center and karlsbad twin at left) with quartz, Agrano, Baveno granitic pluton, Piedmont, Italy. Specimen 12 cm tall.
Federico Picciani photo
How it all started
Federico Pezzotta obtained this specimen in 1978 at the age of 12 through an exchange of Elba hematites with a collector who had discovered a nice cavity in the Baveno granite only a few days earlier. At the time of the exchange, the crystal on the right was missing. Ironically a few days later, Federico visited with another collector who had participated in the same discovery. Looking through dozens of other single crystals from the same find, Federico came across a crystal he felt was surely the missing crystal to the specimens he had just acquired. He took a chance and did another trade with this collector for the crystal he was sure would reconnect to the piece he had already, excited to reunite the pair, his suspicion was justified when he arrived home and the two pieces fit perfectly back together, he was right! In the follow days, Federico followed the suggestions of friends at the local mineral club (G.O.M. – Gruppo Orobico Minerali) and trimmed and removed a useless part of the matrix, cleaned the dust and iron hydroxides, and repaired the specimen. He considers this experience the beginning of his passion for minerals and the art of mineral specimen lab preparation.