"We treat every specimen as though it were a part of our personal collection" is the philosophy of the M.C.P. team.
Mineral specimen lab processing starts with photographic documentation of the condition of each piece at the moment of delivery in order to allow for a correct comparison with the final result. In the case of multiple treatments, especially in the case of very important specimens, additional photographic documentation is collected throughout the process. M.C.P.'s lab has developed, and continuously updates, a database containing detailed information about the processing procedures performed on different mineral species, crystal and aggregate morphologies, localities, and the natures of the related matrices or associated minerals. In the case that M.C.P. is performing procedures on a species never before presented to the lab, or a crystal aggregate with a new morphology or from a new locality, or any new challenge, we first undergo careful research and experimentation in order to avoid mistakes and achieve the best possible results.
Special attention is devoted to:
The integrity of the overall specimen, and most importantly the crystals, taking care not to damage or alter their original, natural features.
The quality of the products we use, including chemicals and resins.
The quality of the tools we use during processing.
The durability of the treatments applied and that of repairs and restorations.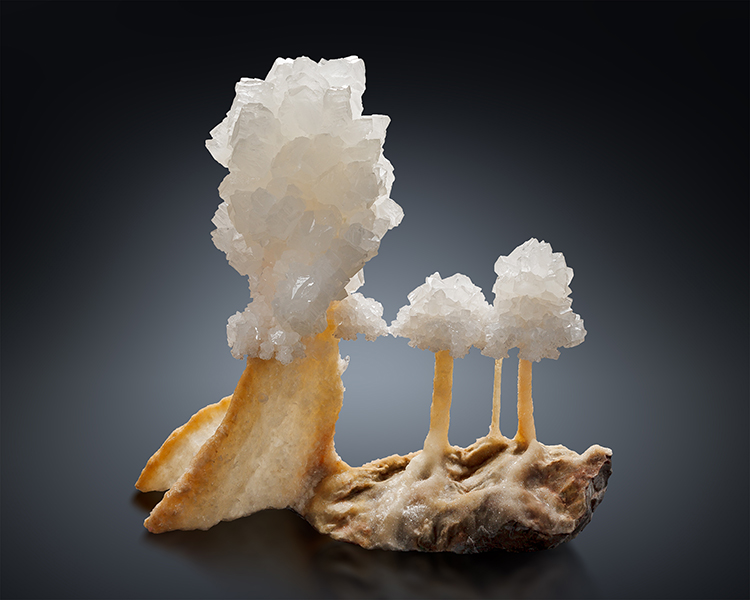 Calcite, specimen 28 cm across, Wenshan, China. F.M.I. specimen.
James Elliott photo